Who is Dr. Junping Bergin?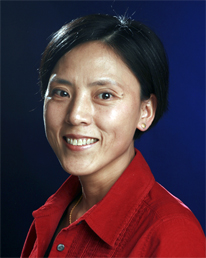 I'm Dr. Junping Bergin and I'm a specialist in prosthodontics, which is a subject that has held my interest for most of my adult life. For a better understanding of prosthodontics, please see the "What is prosthodontics?" of this website. Fundamentally, prosthodontists are focused upon restoring that which has been lost as a result of injury or disease.
I am both a consultant and a primary care provider: I provide prosthodontics consultative services to other dentists, often working with them in their offices, and I treat patients in my own office. Additionally, I work closely with other specialists, such as oral surgeons, orthodontists, periodontists, and endodondists.
My patients receive the benefit of my full interest and attention. I am not a part-time specialist: when I am not treating patients I invest my time in keeping up with the state of the art, reviewing the research literature, and developing new tools and treatment methods. It is very important to me that my patients get the best possible treatment and enjoy lasting results. Your treatment should not just be good - it should be exceptionally good. Look, feel, and function should be perfect.
Originally, I received general dentistry and post-graduate training in prosthodontics in Xi'An, China, where I studied at the Fourth Military Medical University. Following graduation from FMMU I worked as both a general dentist and a prosthodontist in Shanghai. When I emigrated to the United States I chose to undertake a complete review of my education in general dentistry at Nova Southeastern University's College of Dental Medicine, which is located in Fort Lauderdale, Florida. As a result of my work at Nova, I was inducted into Omicron Kappa Upsilon (OKU) National Dental Honor Society in 2008.
When I first studied prosthodontics in China, many of the textbooks and research papers that I read were written by graduates of the University of Washington. As a result of this experience, I decided to apply for admission to the UW graduate prosthodontics program - it was the only school that I wanted to attend and it was the only school to which I applied. Luckily, I was one of the three students accepted into the program in 2009. UW graduate prosthodontics is known as a demanding program, and it proved to require a great deal from its residents. I am happy and proud to now be an UW alumni and a member of the American Dental Association, the Washington State Dental Association, the Seattle-King County Dental Society, and the America College of Prosthodontics.
I have a great deal of pride in my work as a dentist. While I am very focused and serious in the technical aspects of my work, I also very much enjoy working with patients and seeing how dentistry can improve their lives. High quality prosthodontic treatment takes time, and my patients and I often become friends. This is definitely a reward for me.